It is afternoon, my naked feet are tickled by beautiful golden sand …. and I can smell it, I can see it and even hear it: The Sea. The heat has me wanting to take a dip in the crystal clear waters but as I've been putting off this post, I've decided to let self-control get the better of me.  No excuses, today is the 15th of October 2014, it is a special day to me, as it is my 1st anniversary on the road.
Over a year ago I quiet my job, left my family and friends… actually, pretty much left my whole life behind to run down my dream of traveling and exploring the world.  And today I'll take time to reflect on the last 365 days, do a retrospective and analyse what happened to me.
Do you know that
Saturday
feeling? Opening your eyes to a day with no deeds to do but the one's you decide?  A day to do whatever comes to mind?
Well that's the best way to describe this trip. A year of Saturdays, filling my days with what I love the most.
 I had the ultimate freedom from traditional life and responsibilities and learned that even with carte blanche, life is fundamentally what you make of it.  Whatever path you choose, wherever you to stay, whatever experience you have, and whoever you meet you can learn something. I didn't have to work a day, had no job to report to, or teacher to give homework to, but that didn't change the fact that there were ups and downs.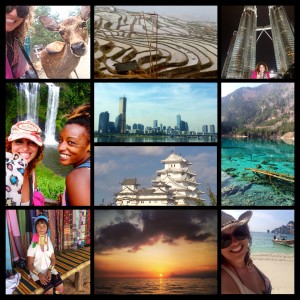 A myriad of moments comes to mind as I write this.  Stories, people, places; digesting a 365 day meal of the senses isn't easy; especially not in a couple of hours, so bare with me.  I have to mention this insane contradiction I have in my mind right now, It's been a year, but I still feel as though it's just begun.  I can still feel the tears of my friends touching my face as we said our goodbyes at Heathrow before that one way flight to Mumbai, yet it also feels like a decade has passed and I'm bombarded by all the memories.
The last year looked something like this…
1  continent only – Asia.
13 countries – India, Malaysia, Singapore, Hong Kong, Macau, China, Thailand, Laos, Cambodia, Myanmar, Japan, South Korea, Philippines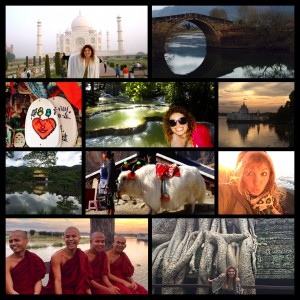 I made a million new friends … met so many wonderful people around the word and made some real friends and connections, and these people alone already would've made the trip worth it! I visited old friends in their home towns.. and was also fortunate enough to have some of my most amazing friends coming to visit me, and I am forever grateful as it was so special to see my besties when I needed them the most. A special thanks to Emma, Danny, Danilo, Olimpia, Rafaela, Tim and Corrine, you guys rock my world. But thank you, all of you that spoiled me so much, that came to visit me and opened their doors, showed me around, took me out, listened to and inspired me.
Dreams, goals and bucket list items achieved; from walking around in some of the 7 wonders of the world like The Taj Mahal and the Great Wall of China to finally getting my open water diving license; to dressing up in traditional Japanese and Indian garb to swimming with glowing plankton off the glorious shores of Thailand where they filmed The Beach; to a tea ceremony in Japan to having my palm read in India.  I saw temples, castles and palaces that I have dreamt of visiting all my life and even climbed Mt. Fuji. Achieved so many of my dreams and crossed many of my bucketlist items.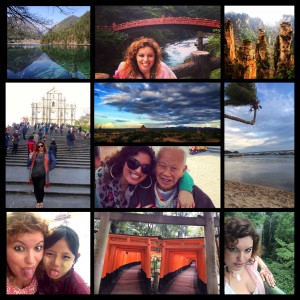 Exploring my Roots – I had the opportunity to visit some of the places that my ancestors have left their stamp on, and it was so surreal and interesting to see the cultural influence my people have had in Goa (India), Malacca (Malaysia) and Macau.
Even though I mostly starved on this trip – not by choice trust me, but vegetarians still have a hard time in Asia, however, I am fortunate to have tasted sooooo many new flavours, vegetables, fruits I hadn't heard of or even seen.  I even learned how to cook so many new dishes from so many new countries.
I truly missed the way music was a part of my everyday life. Live concerts, festivals, shows… really is difficult to do it while on the road, but I still managed to incorporate it however, and some of my fondest memories while on the road include seeing Bruno Mars in Shanghai and Lady Gaga in Tokyo, and also singing on foreign stages (whether in bars or karaoke) which is also fun.
Got myself some life souvenirs, all of which I'm proud of; whether it's the hanzi/kanji dream tattoo on my wrist or the scars from unexpected accidents and incidents.  Some are physical scars, other emotional, but I'm grateful for all of them, as they all taught me something.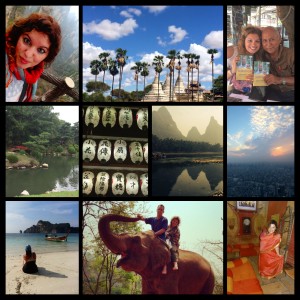 I created my Project "Dreamers around the World" which has been so much fun and so interesting for me, helped me understand the world in a different way, and connected me more with so many beautiful people.
I was inspired and inspired others – not only did I meet some of the most wonderful new people that touched me in unthinkable ways but was also reunited with old heroes, both of which were nothing short of magical. But I have also received so many messages and sweet words  from several people telling me how much my stories, my pictures and my decision has inspired them truly means the world to me.
Learning – long term traveling has been the best school/job I have ever had. No other experience has taught me more about myself, the world I live in, life, cultures, and the way people interact with one another. It just completely changes your life and the perception and perspective you have on things, people and values.
The best moments happened spontaneously. Every day was a surprise.  When I awoke I didn't know what kind of experiences the city I was in was going to offer; I could wind up having the time of my life or in jail.  Some of the brightest and best moments were with people who's names I didn't even know. Also there was never routine or monotony, and a good way to measure it is by analysing where and how I have been sleeping during the last 365 nights, and I slept on beaches, trains, buses, airplanes, airports, dirty floors, capsules, hammocks, internet cafes, restaurants (yep I know…), one dollar hostels to 5 star hotel suites, and have slept inside forts to inside hotels reserved to very exclusive people. Sometimes all by myself, sometimes with someone special, sometimes with 15 friends lying next to me on the floor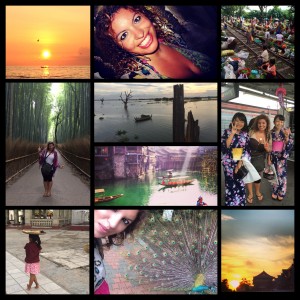 A journey of this magnitude is not a vacation.  It's a full time job to be on the road 24/7.  While it might seem glamorous, there were still struggles.  Many struggles. It could be as simple as finding something I was able to eat, and feeling relieved at finding a banana (and I don't even like bananas) or carrying around my 40k bag and rushing from taxi, to bus, to train, to flight.  Planning logistics in a place with little to no internet service, dealing with shady taxi drivers, unsavory hostel owners, and unruly men who's leers and stares could make even a pool in paradise uncomfortable.  And in spite of all the lovely people I met, I was still alone in dealing with these things; and in that aloneness I realized no amount of complaining improves any situation.  Wherever you are, whatever you do, you take the good with the bad and steer the ship the best way you know how.  I had my share of dangerous situations, saw the harsh realities of being a woman alone on the road, and learned that every culture and country has their dirty little secrets.  When you stay in any place as long as I stayed in many, you realize there is a yin and yang, a darkness and light to everywhere; but the more time you spend navigating the world, the better you are at finding the light. I have my stories good and bad, I have my scars, and I am grateful for them all because they've made me a better person, one more in touch with my spiritual side.  Karma has always been a motto of mine, but now I embrace it more than ever as I truly believe that everything happens for a reason.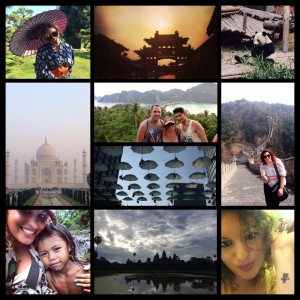 So as you can see its difficult to describe the last year as there are so many things I've done and seen, and so many lessons learned.  Even with all I've shared it's only a small piece of the puzzle.
I am eternally grateful for all of the adventures on beautiful beaches, the majestic creations of both man and nature, the beautiful sunrises and stunning sunsets, because they have helped shape the person I am today… I can feel and see the change. I have learned so much.  All the tears and laughs, the chats with different people, the stereotypes that I had to let go of… all the mistakes and struggles I overcame, all the inspirational people and the heroes that showed me a new reality, the culture shock…the unfairness I witnessed…the kindness that would give me a boost…all the emotions I went through, especially missing my family and friends which was truly painful and still is every day… it all made me a better person. I am far more smart, aware, open minded, intelligent, educated, clever, wiser, and most importantly more grateful than ever.  I appreciate things on a different level, and never have I been so proud or happy about my roots as a Portuguese/European young woman, because this trip is proving me once again how fortunate and lucky I am just for being born in a certain place and how can that completely shaped me as a person.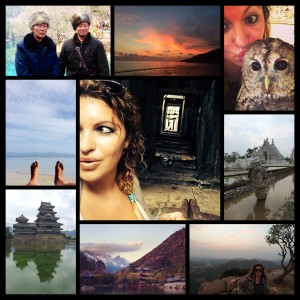 And to finish:
"A man needs to travel. By his own means, not by stories, images, books or TV. By his own, with his eyes and feet, to understand what he is. To some day plant his own trees and give them some value. To know the cold to enjoy the heat. To feel the distance and lack of shelter to be well under his own ceiling. A man needs to travel to places he doesn't know to break this arrogance that makes us see the world as we imagine it, and not simply as it is or may be. That makes us teachers and doctors of what we have never seen, when we should just be learners, and simply go see it."
Amyr Klink
I woke with this message today, someone that is very dear to me wrote it on my Facebook wall as to celebrate this special day and I have been thinking about it all day. The person that left it on my wall is someone I have been in touch with for over a decade and has inspired me to do what I am doing today. He has seen the world several times and by doing so, has shown me it's not impossible, but more, that it's not even that difficult, and people like him mean a great deal to me, because they make me believe in my dreams and give me the strength to just do it.  And this is someone I've never even met face to face, so it just goes to show that you can inspire just by following your own dreams and sharing how you did it with others.  Leaving your footprints so others can follow them, and this, ladies and gentleman, is my intention.  I am inspired by others everyday and I hope I can inspire you to follow your dreams of travel, or whatever dreams you have.
Thank you Allan, happy birthday to you my dear 🙂
And happy 1st anniversary to me. Also thank you all for following my footprints in the clouds… I promise I will keep leaving my mark and feel free to come and follow them.. they are all over the clouds so all you need do is hold your head high and smile. 🙂
Obs. Also, hope you enjoy the year in pictures… was hard to choose only a handful of them, after all we are talking about 365 Saturdays worth of pictures, and we all know Saturday is the best day even to photograph ;p