Hello you all,
First, I would like to apologise for the silence but last couple of weeks have been just absolute madness!!!!! And I mean real madness as been sleeping roughly 3h per day and start feeling like I am going insane :p
A lot has happened since my last post, which now seems like ages ago (humm in fact 2 weeks ago):
First left London, not before moving ALL my stuff which was roughly 400kg of useless shoes + more shoes (shameful to say it was over 70 pairs), clothes, books, more books and even more books, plus DVDs and other million items.
After that was moving back home to Portugal (temporary) and try to fit all those 400kg of stuff in a room that was absolutely full of my teenager stuff, from clothes that seem from the 80s (ok ok maybe 90s) to Spice Girls posters – here we go, and other million stuff  that I had to get rid to give space to my "adult" stuff that I just brought from London…. And redecorating a room when I have over 30 piece of luggage to move in and over 15 to move out, trust me, it is a mission!!!!!
Also, one of my best friends got married in Lisbon/Cascais – the other side of the country  and as good bridesmaid and friend decided to stay a few days around and spend some quality time and obviously say bye to my beautiful Lisbon.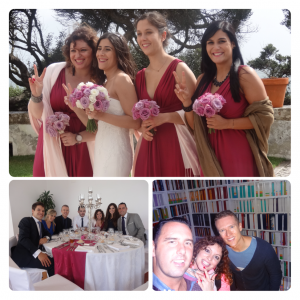 On top of that had some lovely friends from London  that came to the wedding, coming to visit back home, which was great – even tho it rained so no swimming pool 🙁
Do all those bureaucracies and stuff such dentist (twice, damn, but I dont think I will trust my teeth anywhere else), blood test, vaccination, doctor, hair cut, mani/pedi etc etc etc
And of course, on top of that I also had a massive family  + friends which I had to say HI and BYE. And haven't managed to see them all yet and that is stressing!
So it might make sense to you now on why I feel like going insane :/
Anyway, it is past 3am and I have just realized that tonight will be my last night in my room, the room I left 7 years  ago but always came back to, the room that had me from the age of 5 and the room that I love dearly and just finished to redecorate to look a bit more like my old London room which I also loved.
One thing I have learned with all those moves of the last days is that I will become a minimalistic from now on, well, definitely not gonna travel with 400kg on my back so I better get used to not to have more than 1 par of shoes and I can start saying bye bye to all jewellery, makeup and my dear books (thank God for the iPad!!!)
However, my room(s), both in London and in Portugal have always been my sanctuary. You know, the place you usually make the most important decisions, the place you dream at night (or all day if you are like me), you hide your diaries, the place that you have the best memories of all those sleepovers with your girlfriends and pjs parties, and of course the other sort of parties with your boys, is also where you store all those important documents and hold your library and filmography, so is indeed a special place, and I am here thinking that as a nomad I am no longer going to have this sort of sanctuary and that makes me kinda sad.
For now, I will enjoy while I can and share with you my sanctuary which I will miss dearly. Hopefully will feel home and in a sanctuary on a tiny room in a humble guesthouse in Laos, or in the middle of  a tree hotel in the Amazon jungle! Wish me luck 😀
Anyway, I better go and jump in my bed, after all I am not going to sleep on it for the next 2 years so better enjoy now. Good night everyone and have sweet dreams =)
xoxo