Hi everyone.
First, I have been trying to write this post for almost 2 weeks now, but to get internet it is a very hard mission indeed!!!! So apologies for taking so long :p
One of my first posts was about the importance of having my own sanctuary, AKA room: sanctuary-dreamtime
So being able to have a place to charge my batteries and where I can release the daily stress (don't think there is no stress when you are traveling – its not a real holiday), and get ready for a new exciting day is something I give highly importance! However, I was never delusional about this, I knew that would always be a challenge: to choose the right accommodation.
There are so many things to take in consideration: location, price, comfort, etc … therefore one of the many advantages of being on a tour is the fact that everything is organised and sorted for us – including our accommodation.
Even though I have so many topics I would like to share with you already, I have decided this post was priority (due to so many people asking me if I have been finding "sanctuaries"), so here it comes, a post about accommodation!
So, been in India for 20 days now and have very mixed experiences.
First days, before joining the tour, I have decided that instead of booking an hotel, I would get an airbnb flat, and shared it with its owner, Lea – an European actor and dancer working in Bollywood. Great experience, as it was a smooth transition from my European life to the Indian adventure. Thanks Lea 🙂
But once the tour has started it has been a mix of good, amazing, bad and really really bad experiences.
From hotels where I was sleeping with bedbugs and bathing with cockroaches to beautiful hotels and retreats with swimming pools and stunning gardens, we had it all (and still have 40 days to go).
So to avoid more bad experiences, I have created a check list that I religiously follow every time I get inside a room to avoid dissapointment and it has been working :p
To give you a better perspective, let me tell you more about my tour group: we have been only 5 people (we will be more on the 2nd leg of the tour): Tony, the tour leader (Indian), and 4 travellers (all girls: Portuguese, English, New Zeland and Fiji) – girls share rooms (2/2).
There are a few things that are the norm around here and does not matter if you are in a posh hotel or in a "dump", it most likely to be the same:
Wifi
This 21st century marvel is a rarity. And even when we have wifi in the hotel, as soon as we get in, the server goes down, so no internet for anyone – and this happens pretty a lot (most times so far – coincidence??? lol).
If by any chance wifi is working (probably only on the lobby) it will be really bad and slow, and after a few minutes (hours even) you will be cursing everything and everyone as you will be desperate by seeing the signal showing the wifi is on and you have connection but in fact does not work even tho you have been trying and crying for help.
The shower
Have your grandparents told you the stories how things were when they were young? did they told you that back in their times they had to use buckets to wash themselves? so well, this is just like that. They do have showers, but theres absolutely no separation from the rest of the toilet, is just basically a tap on top that if you switch on will have a tiny bit of water pouring out and you will then cry, then give up and do the unthinkable: you will wash your self with buckets!!!!! Yep, its been quite "interesting". The only positive is that you feel like you are not wasting as much water…
Also, hot water? ahahha you will be really lucky to get some. But after a while you just get used to, plus is hot anyway….. cold showers is what you get.
Ahhh and obviously once you finish your "shower"/"bucket wash", the entire bathroom will be a mess and will look like titanic starting to sink…. everything will be wet.
Toilet paper
Something that has really stunned me is the toilet paper, or should I say the lack of it…? I still can't get my head around to the fact that Indians do not really use toilet paper…… is one of those things hard to understand as its such part of our culture… not that I actually remember how it was when I was being potty trained but I am positive that it is easier to teach kids to – and excuse my language – wipe their "bums bums" than rather go and "wash" yourself…. wondering when kinds are actually potty trained around here and how efficient they actually can be on that task.. anyway, I do always have to ask for toilet paper wherever I stay as they only give enough for you to wee twice…. yeah, girls DO need toilet paper for everything. I feel for Indian women.
Door locks
And heres another thing that is quite interesting. Most of places I have stayed, they give us locks – like the ones I use to lock my backpack, but gigantic version, instead of keys. I am not a fan of it as don't find it safe at all (remember those diaries with a tiny really lock + tiny really key you probably receive pretty much every Xtmas from your auntie? yeah, the key looks as strong as the kids diary ones… the only difference is that is the gigantic version). Also I find it hard to close and open the door – specially if you have just done your nails and then you have to go and redo them again… crap!
And now I will share with you some particular experiences:
There's 3 particular Hotels where we had bad experiences. For moral reasons I do not want to share the name of the hotels, but I will call them by the name of the town they were.
City of Aurangabad
First really bad experience: The hotel had bad appearance and sometimes you just know…! When you travel you learn and acquire a sort of a sixth sense, and as soon as I walked in I had it, had that negative feeling!
As we were rushing once we got there (we were late for the movies), we hardly checked the room. But once we got back, completely exhausted, and drop dead in bed, I could feel something was wrong. I was itchy, very itchy. Yep, we had bedbugs in our beds. I slept completely covered with a jumper and long leggins (and there was no air con)! My travel room mate slept on the floor! Lovely.
City of Omkareshwar
This is an absolutely lovely city. Its a holly place so has good energy (and a lot of cow poo…..). I was very excited about the hotel we were going to stay tho…. first because was the first place we were going to stay for 2 nights (which is rare when we travel in a rush around the whole country), second because we had an entire free day – which I though I would have time to check up on several things and use internet to say hi to everyone, but main reason was because the hotel had "resort" on its name, and I felt like I deserved a bit of pamper… Well, you should have seen my face when we got to the so waited "resort": just one of the biggest disappointments in the trip (Emma, do not hold expectations in India – yeah, I keep telling that to myself all the time…)
So what was so wrong about this place? At first, nothing really… apart that in my point of view not only it wasn't a resort but according to my standards I was struggling to give it a 2 star rate. A 1 star would be fair. It was funny to see signs saying to be careful with the monkeys…. and quickly I understood why… they truly were everywhere… and no, don't think they were cute, fluffy, gorgeous monkeys as I would put more on the rabies and crazy, ready to attack monkeys.
Obviously there was no internet… and after looking all over the town – which by the way wasn't far but to get there I had to go through a slum – no jokes, with no light and seriously kinda "scary", we finally found internet it in this lovely family store/house (internet was in their kitchen), where then I spent most of my free day, instead of being "pampered in my resort". Oh and by the way, I got lost at night in the middle of the slum while I was trying to get to my "resort"… trouble follows me…
Now the real problems started when we went to bed and we saw a gecko (for those that don't know its a sort of a lizard)… well, not a big fan but could definitely handle it … but slowly other creatures started to appear and by the time we woke up we found ourselves in a middle of an insect Zoo. There was cockroaches, beetles, all sort of flies and all the insect and mosquitoes types were probably represented in our room – imagine a Noe ark, but with insects. That was our room 🙂 Showering and sleeping with cockroaches was definitely an experience that I am not willing to repeat 🙂
City of Mandu
Another beautiful town, another negative experience. This place was another disappointment as it had everything to be a great place. It did look clean and had potential. But I should know better after asking for my first western dish – french fries and a cheese sandwich, that I should drop my hopes in that place… yeah, because when I was "happily" eating my french fries, I saw a very dead and grilled insect on my frenchies…… well…. it was one of those moments you want to pretend you didn't see it and eat what was "clean" and try not to make a massive deal out of it, after all I had just arrived and didn't wanted to behave like a diva…. at the end I just lost all my appetite and even apologise to the staff that came to collect my plate… and told I had a big breakfast… well…I was in fact starving myself, but gotta be nice sometimes – or avoid the staff spit for the next meal :p !
Then, later on at night after having a very pleasant shower – yeah, there was pressure and even hot water – a rarity I promise, I got the towel they provide to cover and dry myself and felt like there was something wrong… and was very wrong indeed. The towel stank!!!! I think dead people might smell better. Right, jump on the shower again!!!
Then when I finally got into bed, I felt that was something wrong….. and it was indeed: my bed was broken 🙂 Right, call (and wake up) the tour leader to sort it as reception was closed. It was 1am! Poor Tony.
Now do not get me wrong, I am loving my Indian experience, and theres plenty of beautiful, safe and clean hotels and places to stay – and I have been lucky to be in some absolutely stunning places (for the budget trip I am doing).
So to be fair, let me also share 3 unique, positive great experiences:
City of Jalgaon (Hotel Plaza)
We stayed in this beautiful Hotel, called plaza Hotel, and no, I am not talking about the one in NYC. However, I call it the White Hotel. It was so refreshing to stay in a place that was sooooo clean and white. Everything was white in there. Crispy whitey sheets, bright white walls and roof, super clean white floors. It was great. But what was really special was the service we had there.
We were actually received by the owner which happens to be a very lovely gentleman that will probably show you around his beautiful hotel and tell you the story of how he came up with it. A personal touch is always welcomed. I highly recommend it.
City of Sanchi (Gateway Retreat)
This is another lovely hotel/retreat that we stayed. Not only the place was stunning, clean, with a big swimming pool and some swings that we used at night, also had one of the best restaurants we have been too. Food was absolutely delicious and we were always excited about going for a meal. Definitely a place I would recommend if you around the area.
City of Orchha (The Betwa Retreat)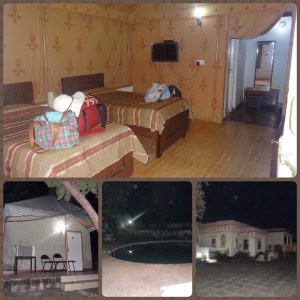 But the award goes definitely for the city of Orchha. Not only the town is absolutely charming, we were so lucky to stay in one of the most unique places I have been. So we stayed in this beautifully magical retreat that has the most stunning gardens and we stayed inside this massive tents. If there wasn't a Plasma TV in it, I could easily feel like an explorer back in 1925. The tent was big and very beautiful, and even had a very handy dressing room. The only thing that would freak me out at night was listening all the lizards, and even probably monkeys that would "walk" on top of the tent… but waking up with all the parrots and exotic birds singing every morning would make up for the scary nights ahahah. It was indeed a special place and would love YOU to visit and stay there. Definitely worth a visit both the city and the retreat.
P.s I am currently in Delhi, and as I have been writing this post for a few days now, I would like to update by saying Im currently staying in one of the coolest hotels so far. My hotel is called "The perfect Hotel" and is perfect indeed. Google it. On top of that, I have a room for myself. I feel like celebrating ahahaahaha. Lovely gorgeous place. Stay here if you come to India's notable capital.
P.s2 and no, theres no wifi working properly, no hot water (at least not from 11am tip 5am), yeah the buckets have to be used as theres no proper shower, but they do have toilet paper and "normal" keys ahahahaha and really has gorgeous thematic rooms.
Wish me luck for the next sanctuaries =)
xoxo
E.